How to read in our catalog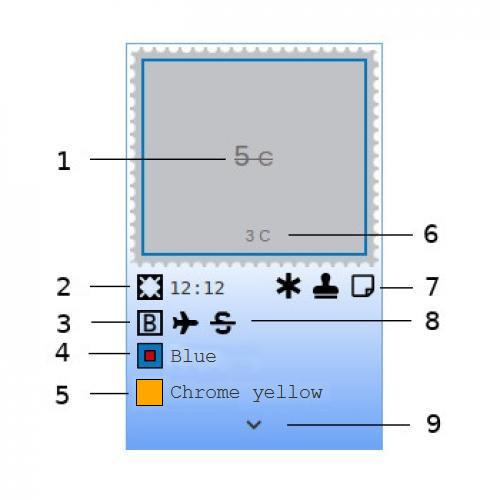 Because our catalog provides a large amount of data, it can be a little difficult for a beginner to read the data in it correctly. For better orientation, we have written the explanatory notes of all possible pictograms for individual stamps in our catalog for you. For more information, click on the series detail.
Explanatory notes
Original value
Type of perforation and in the case of perforated stamps also the size of the perforation
Souvenir sheet (instead of a sheet, there may be another type of stamp, such as "postage due" or "service")
Stamp color (main and, if indicated, secondary)
Stamp background (if the color of the used paper is not white)
Reprinted value (or reprinted text)
Set of icons related to your own collection (from left "pure stamp" *, "stamped stamp" * and custom note)
Overprinted stamp (to the left of this pictogram is the airmail icon)
Contextual offer of the stamp
* If the icons are gray, it is not the collection of a specific philatelist, but the catalog price of the stamp.
Now you have learned how to read our catalog and you can start browsing it.